Charcuterie Boards
Charcuterie (shahr-cute-uh-ree) is a French word devoted to prepared meat products, such as bacon, ham, sausage, terrines, galantines, ballotines, pâtés, cured meats and confit. It is often served with various cheeses, crackers & bread, and other fun additions like jams, candied nuts, and more! We have engraved our wood charcuterie board with a decorative and whimsical design created specifically for us.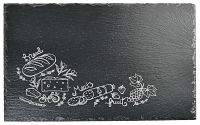 Slate Charcuterie Platter; 7.87" X 11.81"; engraved with the Charcuterie design.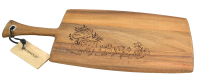 Acacia Wood Charcuterie Board with Engraved Charcuterie design; 20.25" x 8"