9x9 Designer Series
That's My Pan!® is thrilled to introduce our brand new Designer Series personalized cake pans and lids. The Aluminum lids are coated on both sides with a durable bright white coating that forms the canvas for our color designs. Add your personalization, pick from our library of design options and then make them yours by changing the color of the various design elements as you view your pan and lid dynamically on the site. Our Designer Series lids can be paired with our Traditional or Doughmakers® 9x9 pans.

Traditional 9x9" aluminum baking dishes with a designer series finish lid. Contact us with questions about our decorative cake pans.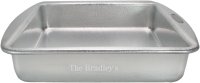 9x9" Doughmakers® cake pan with a designer series finish lid.