Christmas Stocking Stuffers
We offer a variety of products that make great stocking stuffers.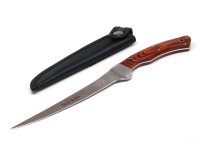 This personalized fillet knife is a terrific gift for the fisherman (or woman) in your life. The quality Elk Ridge fillet knife has a 7", 440 stainless steel blade. The overall length is 12 1/8". This personalized fillet knife has a beautiful, dark, hardwood handle and comes with a custom nylon sheath with belt loop. We will personalize your Elk Ridge fillet knife blade with a name or saying - whatever you can fit in a 28-character limit, laser engraved on the blade.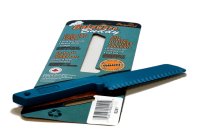 Our customers have been asking us for a cutting knife that will cut their treats easily in the pan without scratching the coating on our non-stick pans. We finally found the answer in the Bakeware Buddy® cutting tool! This plastic serrated knife cuts baked goods cleanly and easily and doesn't scratch our non-stick pans. Safe for kids too! 8" long.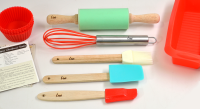 Let's Get Baking with the Personalized Intro to Baking Set! The best-selling Intro to Baking Set is perfect for every child to explore the fun of real baking. Complete 17-piece set includes everything needed to bake an assortment of tasty treats . Comes with 1 personalized spatula, 1 personalized pastry brush, 1 personalized mixing spoon, 1 silicone loaf pan, 6 silicone baking cups, 1 personalized rolling pin, 1 personalized whisk and 5 recipe cards. Components included in the set are sized to be easily used by small hands and each piece is sturdy enough to be used regularly.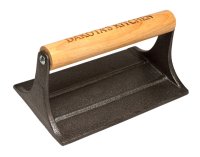 Our cast iron, personalized bacon press keeps bacon from curling and helps press out unwanted fat in burgers. Your custom bacon press will have your name personalized on the wooden handle. Preheat the cast iron bacon press in your pan, and set it on your bacon. A perfect gift for the bacon lover in your family! Dimensions: 6.75" x 4" x 4"

Personalized Stainless Steel Straw Set - 4 Piece - Bent - 8.5" Saving the world 1 sip at a time When you are using a reusable straw, you want to know it is yours. Permanent laser marking 4 straw sets with a cleaning brush in a black draw string bag 8.5" stainless steel straws with bent end

Personalized Stainless Steel Straw Set - 4 Piece - Straight - 8.5" Saving the world 1 sip at a time When you are using a reusable straw, you want to know it is yours. Permanent laser marking 4 straw sets with a cleaning brush in a black draw string bag 8.5" stainless steel straws with straight end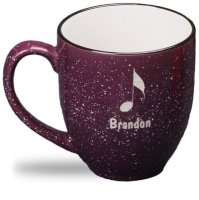 Personalized Plum 14oz Speckled Bistro Mugs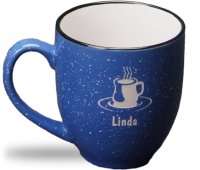 Personalized Blue 14oz Speckled Bistro Mugs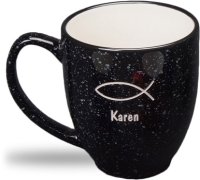 Personalized Black 14oz Speckled Bistro Mugs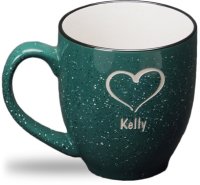 Personalized Green 14oz Speckled Bistro Mugs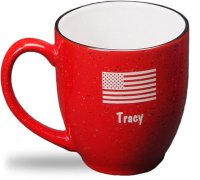 Personalized Red 14oz Speckled Bistro Mugs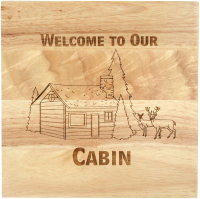 8X8" Solid Oak Cutting Boards, Cabin Design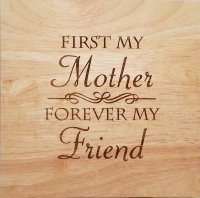 8X8" Solid Oak Cutting Boards, Mother Friend Design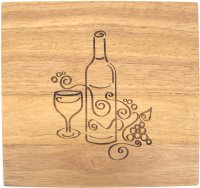 8X8" Solid Oak Cutting Boards, Vino Design